Navigating the Finnish Healthcare System: A Guide for Foreign Nurses and Caregivers
Finland is a country known for its excellent healthcare system, which is highly valued by its citizens. The system is based on the principle of equal access to healthcare services for all, and this is reflected in the high standards of care provided. For foreign nurses and caregivers who are interested in working in Finland, understanding the Finnish healthcare system is critical. In this article, we will provide a guide to navigating the Finnish healthcare system, including information about Finnish collective agreements, working hours, career development, salaries, and the split between public and private sector healthcare in Finland.
Finnish Collective Agreements
Collective agreements are agreements between employers and employee organizations that regulate working conditions. This includes wages, hours of work, and benefits. In Finland, collective agreements are legally binding and cover almost all employment sectors, including healthcare. These collective agreements are highly regulated, and there are specific agreements for public and private healthcare sectors.
Since there are no minimum wages regulated by law these collective agreements specify the minimum terms and conditions for an employment to take place. The negotiations are conducted by the trade union (in the case of healthcare workers this is Tehy) and the employer association. The conditions negotiated in these collective agreements must then be applied to All employees regardless of if they are part of the trade union or not. Some notable achievements of trade unions in Finland are sick pay, overtime compensation, annual holidays, holiday bonuses and parental leave. Apart from this trade unions also fight for equality in the workplace. As Finland ranks 5th in the world at gender equality it is fair to say that they have largely succeeded with this.
Working Hours
One of the key provisions of Finnish collective agreements is working hours. In healthcare, the maximum weekly working hours are 40 hours, and any work beyond this is considered overtime. Overtime work is compensated with a higher rate of pay. This higher rate of pay is 15% extra during evening hours, 30/40% extra during night shifts, 25% extra on Saturdays, and 100% extra on Sundays and public holidays.
Sick leave is also regulated by Finnish collective agreements, and employees are entitled to full pay during illness, subject to certain conditions.
Like in many other healthcare systems shift work is the norm within healthcare here in Finland. As healthcare workers probably already know, this can have a significant impact on you. Shift work can disrupt sleep patterns and lead to fatigue, which can affect job performance and the quality of care you are able to provide. To mitigate and minimize these risks, Finnish healthcare regulations include rules on rest periods and breaks during shifts. Healthcare workers are entitled to regular rest periods, which are typically 30 minutes long, and meal breaks, which are typically 45 minutes long. This ensures that the healthcare workers get the rest they need to be able to provide quality care for patients while also caring for their own physical and mental health.

Career Development
For foreign nurses and caregivers, understanding the requirements for career development in the Finnish healthcare system is essential. The Finnish healthcare system offers opportunities for career advancement, but these opportunities require education and a certain language proficiency. Finnish language skills are essential for working in the Finnish healthcare system, and proficiency in the language is a requirement for most positions.
Education is also important for career advancement, and the Finnish healthcare system offers a range of educational opportunities, including training programs and continuing education courses. Nurses and caregivers who wish to advance their careers can pursue higher education degrees or specialized certifications.
Recruits that complete our program will have attained a Finnish language level of between A2.1 and B1. This will set you on a path to success when it comes to attaining higher language levels and career development in Finland.
The Practical Nurse Apprenticeship Program
All foreign nurses from outside the EU looking to work in Finland will have to start out as so called assistant nurses. While working as an assistant nurse your employer will offer you the opportunity to complete the practical nurse apprenticeship program. This apprenticeship takes between 1-1.5 years to complete. The apprenticeship is done online alongside work and is organized by your employer. You will working and receiving your salary as normal while completing the practical nurse apprenticeship program. The program will also lift your Finnish language level to B1 if you did not already have that and give you the degree of a practical nurse in Finland.
It's worth noting that the practical nurse apprenticeship program is just one pathway for foreign nurses to become licensed practical nurses in Finland. There are also other educational programs available, such as vocational college programs or Bachelor's degree programs in nursing. Overall, while there are several requirements and pathways for foreign nurses to work as practical nurses in Finland, completing the practical nurse apprenticeship program is a great option for those looking to gain practical experience while working and improving their Finnish language skills.

Nurse Registration
To become a fully licensed nurse you will need to register with the National Supervisory Authority for Welfare and Health called Valvira. To be able to complete this registration you will need to provide Valvira with proof of your nurse studies, information about your prior education, work experience, and language skills. In some cases you might also be required to provide evidence of your Finnish language competence. This is because Finnish language skills are a requirement for nursing practitioners in Finland.

To attain a nurse registration after becoming a practical nurse you will need to complete top-up studies. These studies will require you to study full-time here in Finland. This is also why it is easier to attain the nurse registration once you have become a Finnish citizen.
Valvira will then evaluate your application and determine whether you meet the requirements to become a registered nurse in Finland. If accepted you will also be issued your license to practice nursing in Finland. This license will need to be renewed every five years to ensure that you still meet the requirements.
Nurse Apprenticeship Program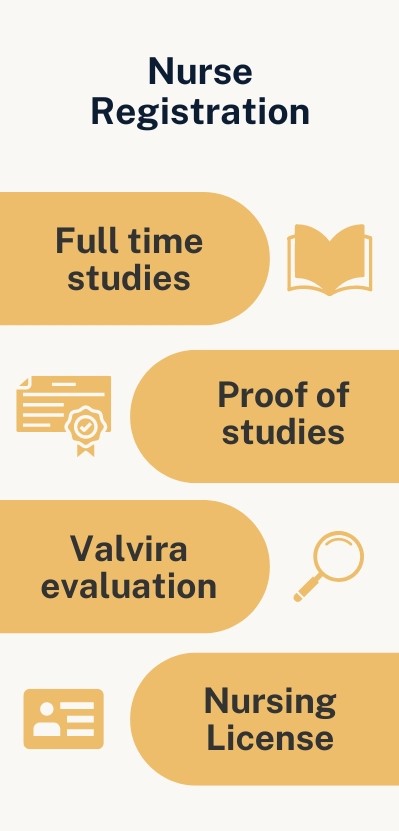 Salaries for Nurses and Caregivers in Finland
In the Finnish healthcare system, salaries are regulated by collective agreements and are based on factors such as education, experience, and job title. Healthcare workers in Finland are paid on a monthly basis, and salaries are paid according to a predetermined scale.
Salaries in the private healthcare sector are generally lower than those in the public healthcare sector. This is because the public sector has higher language requirements to be able to work. The minimum language requirement to work in the public sector is A2.2/B1.
Minimum salaries in accordance with the collective agreements can be found on Tehy's website!
Public and Private Sector Healthcare in Finland
Like you have probably already realized the Finnish healthcare system is divided into public and private sectors. The public healthcare system is funded by taxes, and healthcare services are provided by municipalities and hospital districts. The private healthcare sector is funded by private insurance and out-of-pocket payments.
Both the public and private healthcare system in Finland is highly regarded. Public healthcare workers are subject to strict regulations and collective agreements, which ensure fair working conditions and compensation. However, the private healthcare sector offers a greater degree of flexibility in terms of work schedules and job responsibilities and helps alleviate the pressure on the public sector.
In conclusion, the Finnish healthcare system offers excellent opportunities for foreign nurses and caregivers who wish to work in a highly regulated and world-renowned healthcare system. Understanding Finnish collective agreements, working hours, career development, salaries, and the split between public and private sector healthcare is a good first step for any aspiring health care professional looking to work in Finland!

With Silk Road as your partner you are sure to find success in Finland! Free language training, paper work assistance and so much more! Check out all of our services here!
Header H2