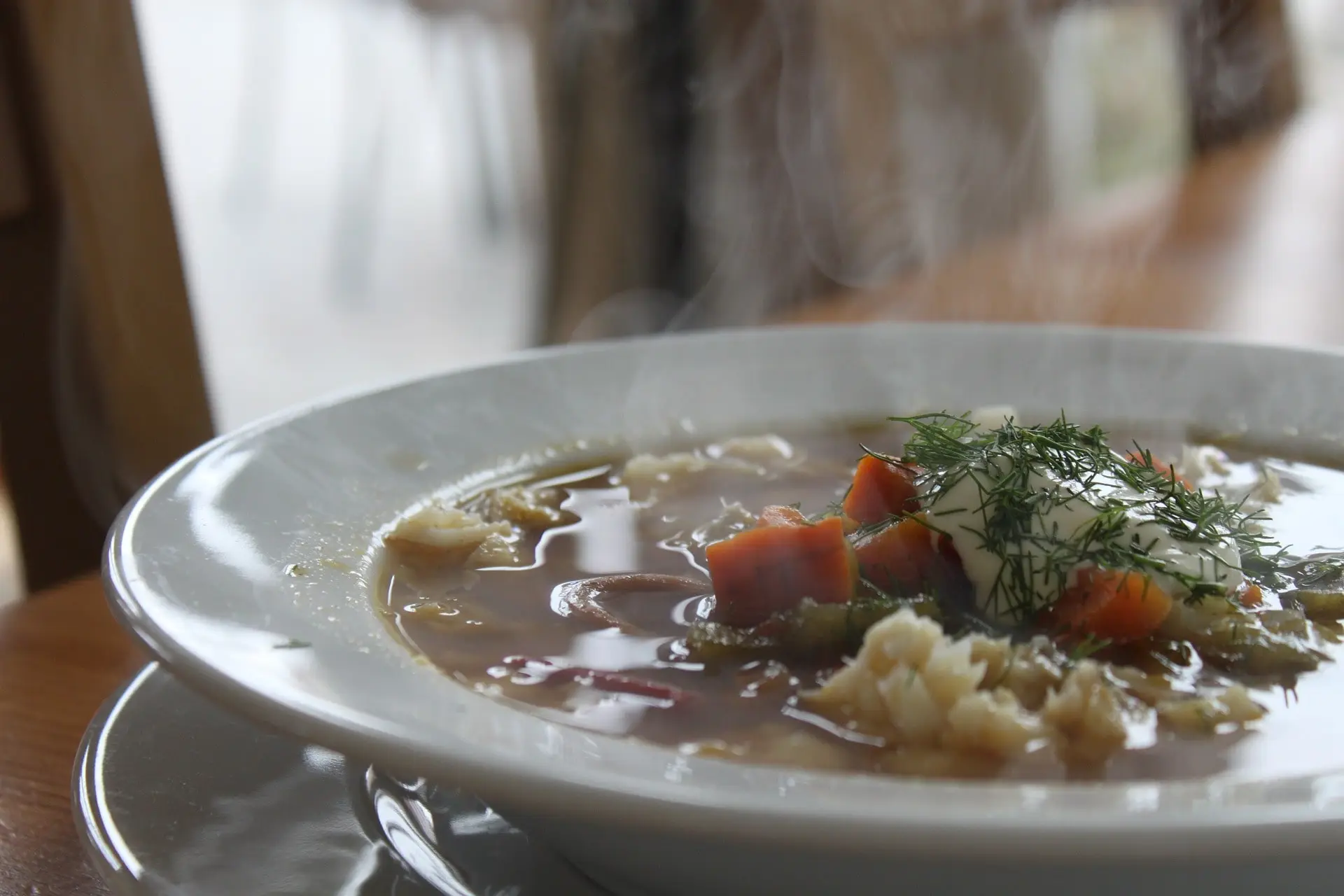 Food in Finland: 5 Factors that
Define Finnish Cuisine
The Scandinavian kitchen is known for its simplicity, freshness and clean flavors. Like Scandinavia, Finland has a food culture that is deeply rooted in tradition and nature. Finnish cuisine is a blend of old and new, combining traditional dishes with modern twists. In this article, we will explore the factors defining Finnish cuisine. We will also discuss whether Finnish food is good, what Finnish food to try and the international flavors in Finland.
5 Factors Defining Food in Finland
One of the greatest factors defining the Finnish cuisine is geography. Finland is located in northern Europe and has a long coastline on the Baltic Sea. That's why seafood is a major component of Finnish cuisine, with fish such as salmon, herring, and perch featuring heavily in traditional dishes. Additionally, Finland's cold climate and short growing season mean that hearty root vegetables, such as carrots and potatoes, are keystones of food in Finland.
Another factor affecting the food culture is history. Finland has been occupied by different nations throughout its history, including Sweden and Russia. As a result, Finnish cuisine has been influenced by these neighboring countries.
The traditional cooking methods are one factor defining food in Finland. Finnish cuisine is characterized by cooking methods such as smoking, salting, and pickling. These methods were originally used to preserve food during long, cold winters. Today, they are used to add flavor and texture to dishes.
One important factor is seasonal ingredients. The cold winters mean that fresh produce is not always possible. Therefore, Finnish cuisine relies heavily on preserved and pickled foods. During the summer time, fresh berries and vegetables are abundant and feature prominently in dishes.
Finnish cuisine is deeply rooted in cultural traditions, particularly those surrounding holidays and special occasions. For example, Christmas is a major celebration in Finland and is marked by a feast of traditional dishes such as ham, casseroles, and rice pudding. Similarly, Midsummer is celebrated with a traditional Finnish barbecue, featuring grilled fish and sausages.
"During the summer time, fresh berries and vegetables are abundant and feature prominently in dishes."
Is Food in Finland Good?
If you are looking for fresh and simple flavors, then Finnish food is definitely worth trying. Food in Finland has a strong focus on using locally sourced ingredients, which means that the food is often of high quality and bursting with flavor. Finnish food also tends to be healthy, with a focus on vegetables, fish, and grains.
Traditional Finnish Food to Try
If you want to experience the best of Finnish cuisine, you should try one of these famous Finnish foods:
Karjalanpiirakka: These are small pastries filled with rice or mashed potatoes. They are often served with egg butter and are a popular snack in Finland.
Lihapullat: These are Finnish meatballs, often made with a mixture of beef and pork. They are usually served with mashed potatoes and lingonberry jam.
Graavilohi: This is a type of cured salmon, which is often served as an appetizer. The salmon is cured with salt, sugar, and dill, giving it a sweet and savory flavor.
Where to Try Finnish Food in Helsinki?
If you are visiting Finland, you will most likely find yourself in Helsinki, looking for a place to eat. One of the best places to start is the Market Square, which is located in the heart of the city. Here you will find a wide range of food stalls selling traditional Finnish food, such as reindeer meat, smoked fish, and fresh berries.
If you want to visit a restaurant to try traditional Finnish food, the iconic Savotta restaurant is a place to go. This restaurant is known for its rustic décor and hearty traditional dishes. The menu features a range of classic Finnish dishes, including reindeer stew, smoked salmon, and various types of pickled herring. The portions are generous and the service is excellent, making it the perfect spot for a memorable dining experience.
Another popular restaurant for traditional Finnish cuisine is Restaurant Aino. This cozy, family-run eatery serves delicious, home-style dishes such as meatballs, liver casserole, and creamy mushroom soup. The portions are hearty and the atmosphere is warm and welcoming, making it a perfect spot for a relaxed dinner with friends or family.
International Flavors in Finland
Finnish food culture has been influenced by other cuisines, and this is evident in the number of international restaurants that can be found in Finland. For example, there are several Italian restaurants serving traditional dishes such as pizza and pasta. There are also a number of Middle Eastern restaurants that offer dishes such as falafel and hummus. In Finland, you will also find a range of Asian restaurants offering a unique blend of Finnish and Asian flavors.
Working Abroad and Discovering Food in Finland
In addition to its unique food culture, Finland is also known for high standard of living and strong economy. As such, it is an attractive destination for people who are looking to work and live abroad. If you are considering a move to Finland, you can expect to find a diverse range of cuisines in addition to traditional Finnish food.
One interesting trend in Finland is the number of international restaurants that are run by immigrants. For example, many Filipinos have moved to Finland to work, and some have started their own restaurants. Paisano, for example, is a cozy eatery in Helsinki, offering a range of classic Filipino dishes. The flavors are authentic, making it a popular spot among the city's Filipino community.
Working in Finland is a great opportunity to experience the unique food culture of this beautiful country. While traditional Finnish and Scandinavian cuisine is a must-try, the diversity of international cuisine available is also worth exploring. Filipinos and other immigrants have brought their own unique flavors to the Finnish culinary scene, resulting in a blend of cuisines that is both exciting and delicious. Whether you are looking for Scandinavian, Asian, or other international cuisine, Finland has something for everyone. Apply to our recruitment program from the buttons below and come to discover it yourself!